Gentrack Limited
Annual Meeting Report, February 24th 2022
Click here for NZSA Assessment and Voting Intentions
All I got from this 30 minute interlude was that the board/management seems determined to reinforce their reputation for taciturnity and an unnamed, but not hard to guess, institutional shareholder wants to get rid of director, Fiona Oliver.
Despite a 9:30a.m. NZ start (7:30a.m. in Melbourne and 8:30p.m. in London, technically, the meeting ran seamlessly. Brief presentations by chair, Andy Green, CEO, Gary Miles and Fiona Oliver, speaking to her re-election were pre-recorded. A top table of Messrs Green and Miles along with new CFO, John Priggen, were beamed in from England. Who else from the board/management joined in and from where was not disclosed.
Mr Green's presentation and the meeting slides have been posted to the NZX. Mr Miles' speech has not, but he said no more than is in the presentation slides. We were told Veovo showed a slight revenue decline, which is no surprise given the Covid impact on the aviation industry. There has been a growth in the utility business with new customer wins offsetting previous years' losses.
Revenue was up 5% but costs were up 5.2%. The good news is that, at EOY balance date, there was a net cash balance of $26m.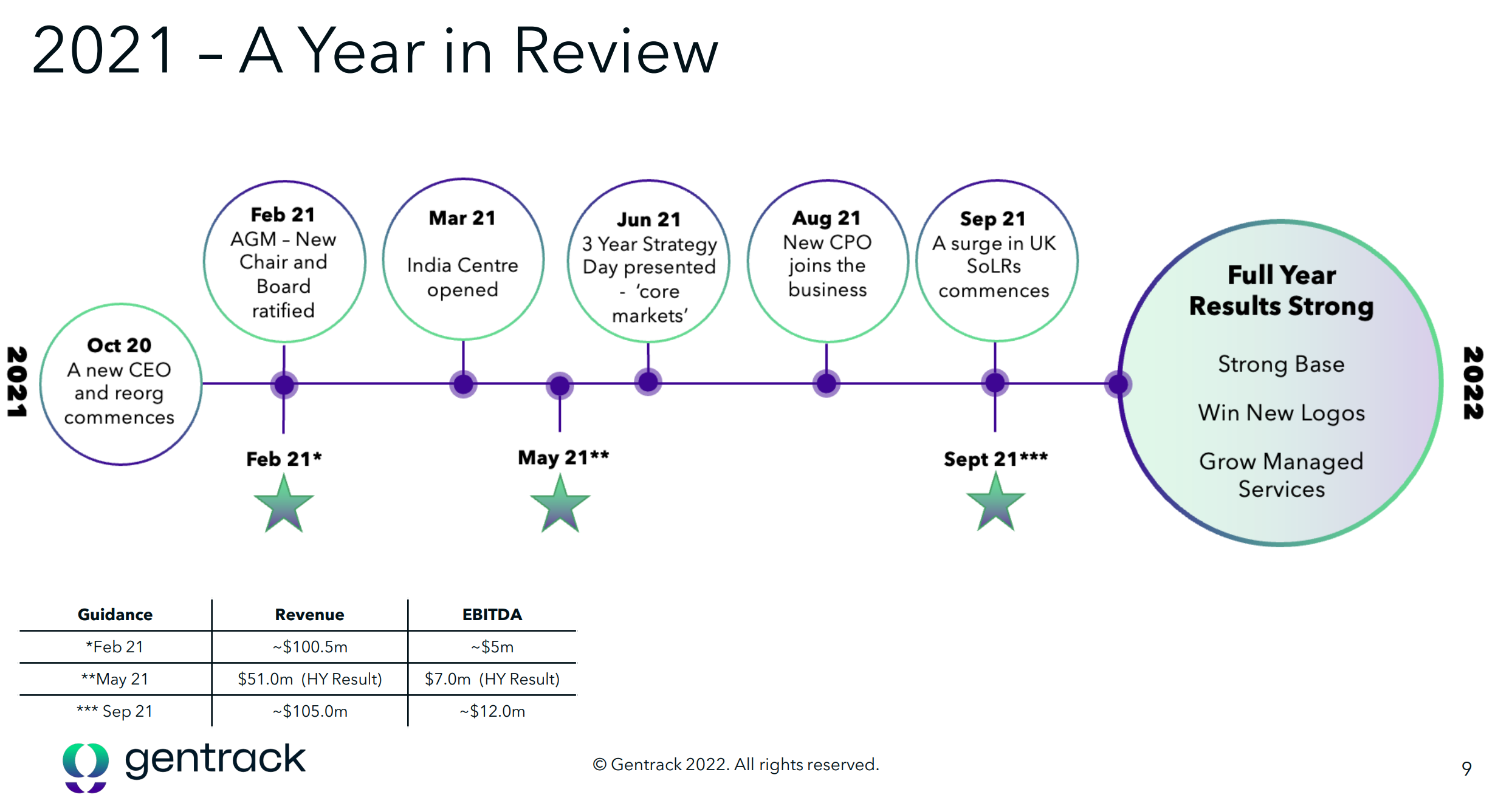 Shareholders will have noted the 'greenwashing' graphics in Gentrack's annual report and notice of meeting. Mr Miles said they "were putting in place schemes to contribute to the areas local to us", were delivering technology to help utilities and customers reducing the impacts they have on the planet and the company was setting carbon reduction commitments to reduce its own carbon footprint. All very vague. We will be told more later. There is an Eliza Doolittle song about that.
The two resolutions: to re-elect of director, Fiona Oliver and give board authority for fixing the auditor's fees, attracted 65million votes. That's 66% of the shares on issue. The auditor vote was near unanimous but there was a near 16% vote against Ms Oliver. Why?
There were half a dozen questions in general business all answered succinctly.
Dividends will resume when appropriate – don't hold your breath.
The Genesis contract renewal is 'up in the air.'
The emergence of the Talley Group in Australia has created change and with that opportunities for Gentrack.
There is no concern over the $5m in overdue receivables.
The Indian centre is developing well with 70+ staff – its future roll not explained.
Gentrack has no exposure to east Europe so the Ukraine invasion should have no impact on business.
Bruce Parkes