NZME Limited
Annual Meeting Report, April 11th 2022
Click here for NZSA Assessment and Voting Intentions
As befits a multimedia company, NZME's meeting was measured, and well broadcast on the Link meeting platform. Chair, Barbara Chapman, covered the 2021 results buoyed by a 13% recovery in advertising revenue and the sale of Grab One with a $15.4m gain, which lifted Total Shareholder Return by 103%. She was proud of the Deloitte top 200 award for most improved performance, and believed that the NZ Herald's 90% project was a major contributor to NZ's vaccination record. Her address and that of Michael Boggs are available on both NZX and NZME's websites.
CEO Boggs detailed the developments: $1.5m raised for Ukraine, Talanoa introduced for the Pacifica audience, Kahu a digital Maori channel, a 13% increase in NZ Herald subscribers including 97,000 digital viewers, strong support amongst digital music audience, and KICK a youth-focused digital broadcaster. His updated forecast, in spite of the cautious climate, inflation expectations, and reduced housing prices, was an EBITDA of $67m – $72m against 2021's $66m. Positive signs include: Q1 2022 better than Q1 2021, International tourism advertising revenue returning, Letter of Intent with Google, and negotiations with Mega on a news deal.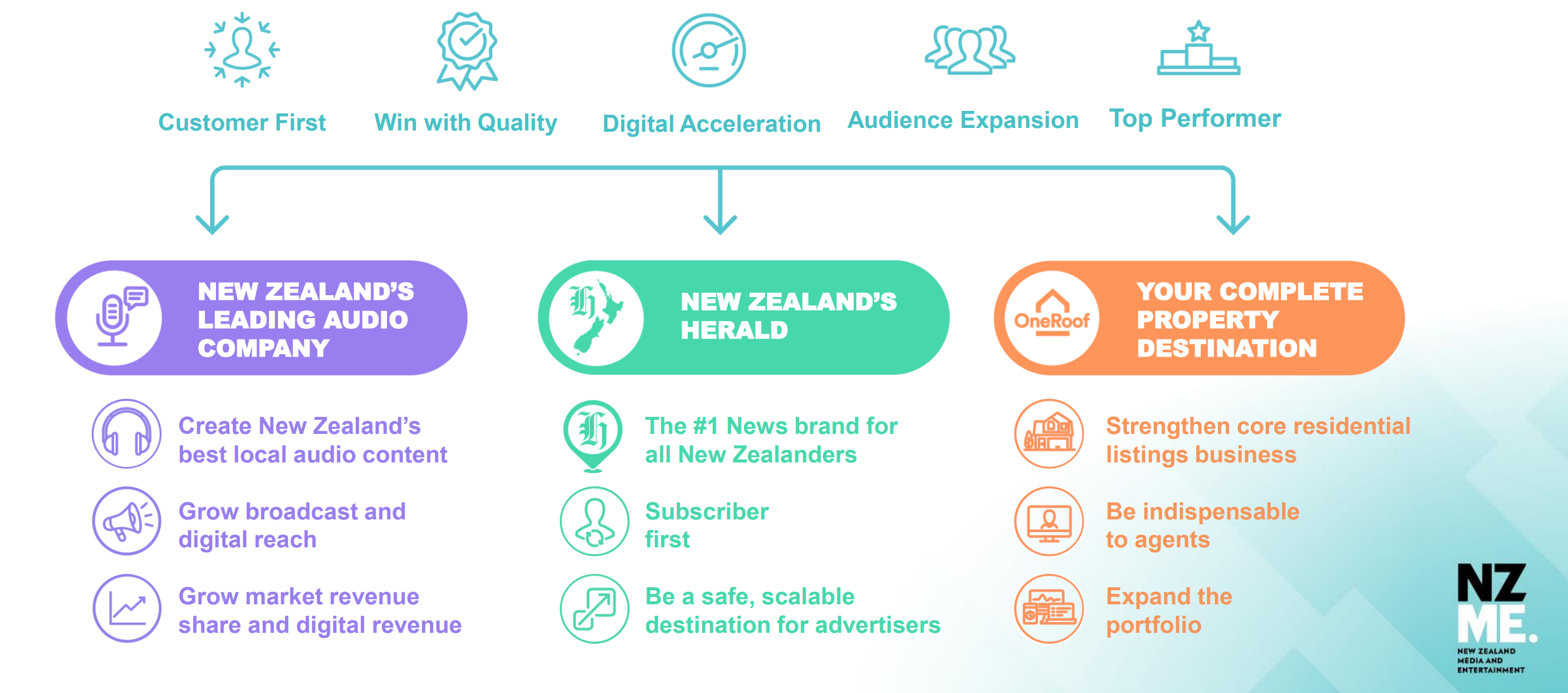 Moving to the resolutions, which were supported by NZSA, Sussan Turner (now Pro-Chancellor of AUT,) spoke convincingly of her lifetime of experience in media, her contacts, and her dedication to NZME's success.
In question time Barbara Chapman made a special effort to address concerns raised by the Free Speech Union over Government Funding and editorial independence in the face of aggressive advertising and paid commentary. She observed that the dual commitment to "the community and the truth" permeated all NZME activities. Unlike chat rooms and social media, NZME is not an open platform, and reserves the right (expressed in its terms of trade,) to reject both advertising and advocacy from the dozens of press releases received from both government and private sources each day. Editorial chief Shayne Currie, heading an editorial staff of 300 spread through the country, spoke about NZME's independence from government ministers and the established departments. Small amounts of government funding help with the training of journalist cadets, and public interest journalism, but the company supports a wide range of editorial opinion, much of it critical and all acknowledged, from all sides of the political spectrum.
NZSA also raised the question of alternatives considered to the buyback to distribute profits from the sale of Grab One. The Chair assured shareholders that all options including cash dividends had been considered, before settling on the tax-free, capital-appreciating buyback. She did not address the suggestion that the overseas hedge funds including USA's Osmium might have influenced the decision. However, she did confirm that executive long term incentives would reflect changes in the number of shares on issue when incentives were considered at the end of the financial year.
Alan Best